Blended Learning
HTES will be utilizing a blended-learning model as a component of instructional delivery. It is our goal to stay true to the definition of blended learning as "a formal educational program in which a student learns at least in part through online delivery of content and instruction with some element of student control over time, place, path and/or pace (Keeping Pace with Online K-12 Online and Blended Learning Annual Review of Policy and Practice, 2012)."
We will initiate the blending learning with a focus on station-rotation and lab-rotation models. The station-rotation model will be leveraged during small group instructional time while the teacher is pulling a group of students for targeted instruction. Those students not participating in the group with the teacher will be working at "stations" receiving instruction through an online medium.
We will utilize adaptive technology for the blended-learning opportunities to ensure that students are able to participate in effectively differentiated instruction. This will allow for students to be working independently at their "just-right" level instructionally.

Benefits of Blended Learning…
?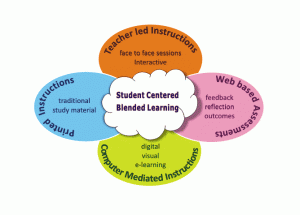 Online learning and blended learning provides students with an avenue to make sure their voice can be heard, even if they are uncomfortable doing so in a face-to-face situation.

Online learning provides students with the opportunity to develop individual accountability to the group.

Synchronous online-learning environments require students to collaborate with one another through different mediums, including, but not limited to written text, recorded voice, pictures, and videos. This format allows students to creatively communicate with peers in the classroom, as well as peers beyond the classroom.

Blended-learning opportunities will also provide additional opportunities to engage and motivate students who might not be as motivated using traditional instructional techniques.
What is Blended Learning?