Colleen Meyers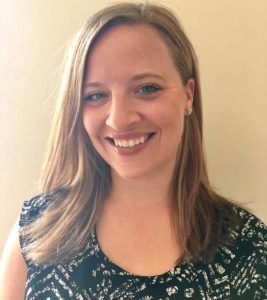 What is your favorite childhood book?
Anything written by Roald Dahl or Shel Silverstein.  Their writing is vivid, funny, and very enjoyable to read aloud to children.
What is your secret talent?
My secret talent is drawing.  My students are always impressed with my quick sketches on the board and tell me I should be an artist!
Who was your favorite teacher in Elementary School and Why?
My favorite teacher in elementary school was Dr. Clark.  He made learning fun and interactive, always believed in me, and pushed me to do my best work.
What is your favorite thing about teaching?
I love teaching because of the amazing relationships I form with my students over the course of a year, and the community we create in the classroom.  I also enjoy seeing my students grow and learn new things, as well as when student masters a skill they initially thought was too challenging.
What is your favorite subject to teach and why?
I really enjoy teaching writing because of the incredible growth I see in my students' writing skills and stories as the year progresses.  I enjoy taking my student's through the writing process so they can feel like mini- authors.  2nd graders have big imaginations and their stories are a lot of fun to read!
What is your favorite part of being a part of the Willow family?
I have been a part of the Will0w family since the school opened in 2014.  It has been wonderful experience creating lasting relationships with colleagues, parents, and students, as well being an active participant in the growth and improvement of Willow each year.  We strive to do our best for our students everyday, and are always looking for ways to improve.  I'm excited for another great year!