Dustin King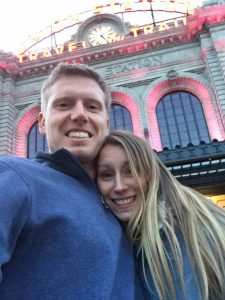 What is your favorite childhood book?
My favorite series to read from growing up was the Shadow Children series by Margaret Peterson Haddix.
What is your secret talent?
Well if I tell all of you, it wouldn't be a secret anymore…
Who was your favorite teacher in Elementary School and Why?
I feel like I always enjoyed my teachers for the most part, but I didn't fall in love with the idea of being a teacher until I had Mr. Gray in my high school engineering classes. He really connected with each of his students through humor and relationship building while still holding each student to high expectations. I remember his class being half stand up comedy and half engineering, but still being proud of the work I was able to accomplish. He is the reason I became a teacher and why I choose to interact with my students the way I do.
What is your favorite thing about teaching?
The best part about teaching for me is the interactions with the students. I love to create relationships with each kiddo I work with and find a way to motivate them to work with others and love life.
What is your favorite subject to teach and why?
I actually really enjoy working through social conflicts with students to try and help them find a common ground and to interact with each other in a positive way. I feel like a good classroom community leads to the most learning possible.
What is your favorite part of being a part of the High Tech family?
This will be my second year at High Tech. I have found that each teacher I work with truly cares about what is best for each student they are working with. They are all willing to make adjustments and continue working to find what works best for every kiddo in their classes.