Efrain Davila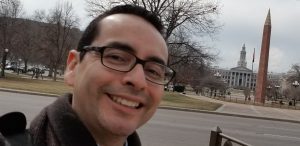 What is your favorite childhood book? 
My favorite book is Coquito because it is designed for Spanish speaking children and it really helped me to read, write and think.
What is your secret talent?  
My secret talent is learning foreign languages! I like learning about different cultures! In addition, I enjoy dancing!
Who was your favorite teacher in Elementary School and Why? 
My favorite teacher in Elementary school was Mrs. Benavides because she was very passionate, patient, respectful and creative. She was very dedicated to her work and was always aware of her students´ needs.
What is your favorite thing about teaching? 
My favorite thing about teaching is being flexible to adapt to new school environments. I can adapt myself easily to new teaching techniques. Learning is a constant process so I am always open to new ideas.
What is your favorite subject to teach and why?   
My favorite subject to teach is Social Studies because it is a great opportunity to integrate a content subject with English language development by developing language skills such as speaking, listening, reading and writing. I like to promote interaction among students so they can have spaces to think, reflect, share and plan to solve problems.
Why are you excited to be a part of the Willow family? 
I am excited to be part of Willow Elementary because I would love to be involved and contribute to the school community so that our students can succeed in learning through Project Based Learning.