Jillian Geib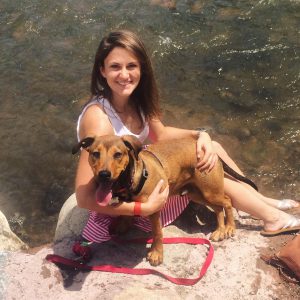 What is your favorite childhood book?
My favorite childhood book is Ferdinand the Bull. The message of seeking contentment and enjoying the simple things in life was important to me growing up, and continues to be something I am mindful of on a daily basis. I also love the simplicity of the artwork, and how the illustrations contribute to the story.
What is your secret talent?
I have a hidden talent for baking. I especially love making my own recipes for unique cookies, like Double Chocolate Chip Oreo!
Who was your favorite teacher in Elementary School and why?
I am proud to say I was a student in Denver Public Schools as a student, and had many wonderful teachers. My favorite was probably my second grade teacher, Ms. Berg, because she encouraged me to pursue my love for writing and entered one of my stories title "Hello, My Name is Pete" into the Young Authors Award competition, which I won.
What is your favorite thing about teaching?
My favorite part of teaching is helping students recognize their passions and using these passions to make learning fun and engaging.
What is your favorite subject to teach and why?
Even though my favorite subjects growing up were reading and writing, I actually love to teach math! I enjoy seeing students become excited about taking an interactive approach to a sometimes challenging problem, and learning new strategies along with the students.
Why are you excited to join the Willow family?
I am very invested in the community because I moved to Stapleton last year. Also, Willow's mission, geared towards nurturing the whole child, aligns with of my own passions for project-based and personalized learning. I am excited to continue my own growth, both as a teacher and a learner.