Katie Ridder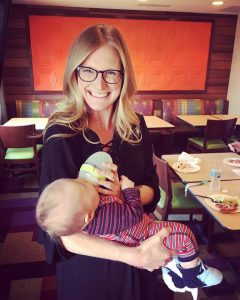 What is your favorite childhood book?
"Giraffe's Can't Dance," is one of my favorite children books. This story has several themes relevant to elementary school students, but my favorite is the idea that you should be yourself and not conform to the masses, doing what everyone else is doing.
What is your secret talent? 
I am not sure I have a secret talent… I have gotten pretty good at changing diapers while a baby rolls all over the carpet.
Who was your favorite teacher in Elementary School and why?
Mrs. DeVoss was my 4th grade teacher and absolute favorite. She was as kind and warm as she was fun. She made every single student feel unique and special. Mrs. DeVoss would sing a song called "Energizer" and dance on her desk while throwing out M&Ms.
What is your favorite thing about teaching?
My favorite thing about teaching would have to be the moment when something new clicks for a student. Students persevere through challenges several times a day. When a challenging strategy, process, equation, word or whatever it may be clicks and the students understanding become clearer, what a great feeling!
What is your favorite subject to teach and why?
More recently I have enjoyed teaching math. Our math block is fast paced, engaging, interactive and fun. Students play math games and problem solve using all of the strategies they have collected through the year. We work within small groups, which allows me to closely monitor and help each student.
Why are you excited to join the Willow family?
I LOVE calling Willow my family. The staff is one of the best. The teachers at High Tech would do anything for their students. They work hard each day. These teachers pour their hearts and souls into their classrooms and the school. I also have to mention the amount of support that is given, without hesitation.