Laura Schmidt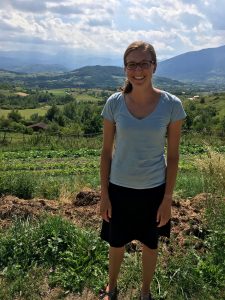 What is your favorite childhood book?  
The Curious Garden – I only discovered this book a few years ago, but it tells the story of the High Line in NYC and how one person can make a difference for many.
What is your secret talent? 
I am pretty good at milking goats…I'd love to have my own someday!
Who was your favorite teacher in Elementary School and why?
Mr. G was the retired husband of my second grade teacher, and he spent every day with our class. I thought that was the neatest thing, and he had a really great rock collection too!
What is your favorite thing about teaching?
Grown-ups never do enough listening to children, but I have found that slowing down in the classroom to listen to students' interests and ideas provides for the most fun and meaningful learning.
What is your favorite subject to teach and why?
I love to teach science, especially life science. Young children are naturally curious about the world around them, and connecting their curiosity to learning is always exciting!
What is your favorite part of being a part of the Willow family?
I feel proud to be a part of the Willow family because we learn, laugh, and cry together.  I know my relationships with students, families, and colleagues will last for many, many years.