Lauren McCann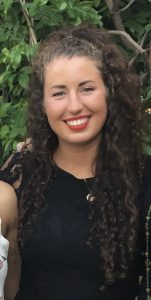 What is your favorite childhood book? 
It is difficult for me to name one favorite childhood book; I have many that come to mind.  I would say The Stinky Cheeseman and Where the Wild Things Are would be near the top of my list.  I enjoyed the illustrations as much as I enjoyed the stories; both seemed to delight me as a child. I also enjoyed Judy Blume books.
What is your secret talent?   
My secret talent is skeet shooting.  I started skeet shooting with my dad in high school, and it quickly became a sport I continue to enjoy today.
Who was your favorite teacher in Elementary School and Why? 
My favorite teacher in elementary school was my 2nd grade teacher, Mrs. East.  Mrs. East made learning fun!  She would go out of her way to talk to me outside of class and expressed interest in my achievements even after I was no longer her student.  Mrs. East made me feel special and supported.
What is your favorite thing about teaching? 
My favorite thing about teaching is the opportunity to learn alongside my students and watching them make new discoveries, especially when a new concept is being explored.  Witnessing a student's growth over time makes my job as a teacher very rewarding.
What is your favorite subject to teach and why?
I enjoy teaching social studies and science.  Social studies encompasses many concepts that shape our thinking about society and the world. From the study of cultural beliefs and values to individual development and identity, social studies provides a framework for us to understand the world.  I also welcome the challenge that science brings to learning; science gives us permission to ask questions and try out new ideas.  Facilitating experiments provides an engaging learning platform that hopefully inspires students to dig deeper.
Why are you excited to be a part of the Willow family?
I am excited to be a part of the Willow family for many reasons. Willow actually does feel like family. In the short amount of time I have been at Willow I already feel connected. The students, faculty, staff, and families bring enthusiasm to the learning process, and I want to be a part of the excitement! I believe in the personalized and integrated approach to learning that Willow affords students.  The expectation and standard of excellence that embody the Willow mission challenge me to bring my best each day.