Katy (Catherine) Martin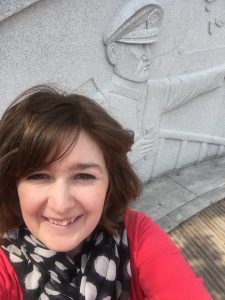 What is your favorite childhood book?
My favorite childhood book series is Harry Potter.  My favorite single children's book is Anne of Green Gables. I love both of these books because I identify with the main characters.  I think that of any literary figure, I am more like Anne Shirley than any other figure about
What is your secret talent?
I don't really have a secret talent, but I am very good at playing board games.
Who was your favorite teacher in Elementary School and Why?
My favorite elementary school teacher was Mrs. Nagy.  I loved her because she made me feel important, and she always made sure I reached my potential.  I also took my favorite classroom routine from her: reading a chapter book aloud as a class after lunch every day.  She read us "Where the Red Fern Grows" when I was in fifth grade, and she cried at the end, teaching me that loving a book so much you cried was ok.
What is your favorite thing about teaching?
Choosing my favorite thing about teaching is really difficult, because I really love teaching.  I love teaching students to love reading.  Watching students develop not only the skills to read, but a true sense of themselves as a reader is truly magical.  I love hearing students talk about their favorite book or their favorite author.  When students love to read, nothing will stop them from being great readers.
What is your favorite subject to teach and why?
My answers to the previous question probably gives this away, but I love to teach reading.  I especially love teaching critical literacy and having students read books that teach them about history and social justice.   The best thing about teaching literacy is getting students to talk, write, and think about people who different than they are.  It is a great medium for exposure to the diversity in the world around us, and it helps us find our place in this diverse world, too.
Why are you excited to join the Willow family?
I am excited to join the Willow family because I am so excited to work in a school where students make choices about their education and where differentiation is the rule, not the exception.  I am excited to present students with academically rigorous content while supporting their character growth as well.