Mary Bozeman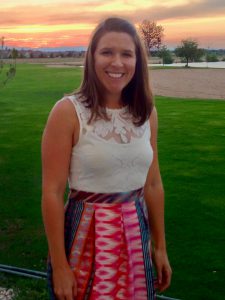 What is your favorite childhood book?  
My favorite childhood book is Alice's Adventures in Wonderland by Lewis Carroll.  It was the first time that I realized that a book could be better than a movie.  I enjoyed this book because of the way the author vividly describes the  imaginative adventures that Alice has.
What is your secret talent?   
My secret talent is that I can do the dance move "The Worm".
Who was your favorite teacher in Elementary School and Why?  
My favorite teacher in Elementary School was my 3rd grade teacher Mrs. Delaney.  She was a kind teacher but I remember she also held us to high expectations and believed that we could all succeed.
What is your favorite thing about teaching?  
My favorite thing about teaching is building relationships with my students throughout the school year and getting to know what is unique and special about each student so that they can be successful in my classroom.  Seeing each student grow mentally and socially throughout the year brings me great joy.
What is your favorite subject to teach and why?   
I really enjoy teaching math.  I think that it is fun to teach students how math is used in the real world and to design lessons where they get to experience math with hands on projects.
Why are you excited to be a part of the Willow family? 
I am so excited to be a part of the Willow family!  I can't wait to teach at a school with such a supportive community.   I am excited to work at an innovative school where I can incorporate Project Based and Personalized Learning into my classroom to create a learning environment that allows each student to succeed.