Meredith Bush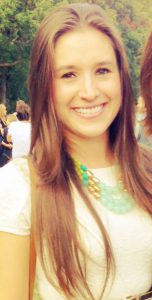 What is your favorite childhood book?
My favorite childhood book is Corduroy.
What is your secret talent?
Completing 1000 piece puzzles in a short period of time.
Who was your favorite teacher in Elementary School and Why?
My favorite Elementary School teacher was my second grade teacher, Mrs. Dobbins. She was kind, caring and made me feel special. Ever since second grade, I always said I wanted to be a teacher when I grow up.
What is your favorite thing about teaching?
My favorite thing about teaching is building relationships with my children and helping them grow as the whole child. I also love that moment when my students start to grasp a new skill and I can see the happy look of pride in their faces.
What is your favorite subject to teach and why?
My passion in Early Childhood is working with children on social-emotional skills. It is such a fundamental piece of the learning puzzle and I love working with them on new and/or different ways to help them grow and learn.
What is your favorite part of being a part of the Willow Family?
My coworkers are a huge part of why I love Willow. I enjoy collaborating with my teammates and know that I have the staff's ongoing and continuous support.