Savannah Thompson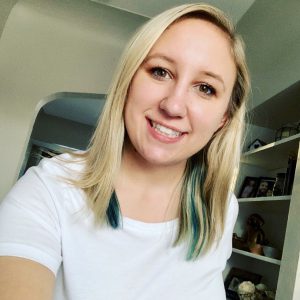 What is your favorite childhood book? 
My favorite childhood book is Where the Wild Things Are by Maurice Sendak. I love this book because my dad would read it to my sister and I before bed while we drank a cup of milk.
What is your secret talent?  
My secret talent is twisting my arm in a complete circle because my elbows are double jointed.
Who was your favorite teacher in Elementary School and Why? 
My favorite teacher in elementary school was my fifth-grade teacher Mr. Stofac. I liked him because we always did fun activities after reading a novel. He was also really cool because he would always play music for us.
What is your favorite thing about teaching? 
My favorite thing about teaching is seeing students grow. When a student has the "ah-ha" moment and something clicks I know they are growing as a student and as a person in society. My other favorite thing is how much I learn about other cultures and traditions in different families from students.
What is your favorite subject to teach and why?   
My favorite subject to teach is reading. I love teaching this because I love how much the students learn from reading a good book. Once a student reads to learn they value reading a lot more. I love reading a book to a class and seeing all their eyes glued to the pages and interpreting the story.
Why are you excited to be a part of the Willow family? 
I am excited to be a part of the Willow family because I spent my student teaching year here, in first grade, and I have grown to love the community, families and staff of High Tech Elementary.