Shauntay Larson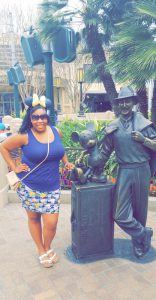 What is your favorite childhood book?
My favorite childhood book is Murfaro's Beautiful Daughters by John Steptoe
What is your secret talent? 
My secret talent would be coaching cheer to elementary and middle school students
Who was your favorite teacher in Elementary School and Why?
My favorite Elementary school teacher was Mr. Sala – he made me love all of the subjects that I hated!
What is your favorite thing about teaching?
My favorite thing about teaching is giving life lessons and problem solving skills to students and then seeing them use the skills without prompting
What is your favorite subject to teach and why? 
My favorite subject to teach is sports!
Why are you excited to be a part of the Willow family?
I'm excited to be a part of the Willow Family because I admire the way that we meet students where they are and them help them be successful.  I also think all the Project based learning is an awesome aspect of learning that I wish I had when I was in school.