Sydney Davidson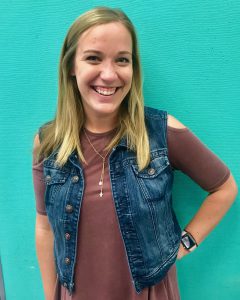 What is your favorite childhood book?
The Giving Tree by Shel Silverstein
What is your secret talent?   
Yoga! It's my favorite after school activity.
Who was your favorite teacher in Elementary School and Why?
My fifth grade teacher, Ms. Cornelison, was my favorite teacher because she challenged me and always encouraged student exploration. I was inspired by how much she believed and cared about all of us in her class. She is one of the reasons I am a teacher today.
What is your favorite thing about teaching?
My favorite thing about teaching is watching students grow and be proud of themselves/their work. I love being part of the journey of students growing in academics and as an overall person.
What is your favorite subject to teach and why?   
My favorite subject to teach is writing because I love that students have the opportunity to show their creativity, imagination, and own opinions.
Why are you excited to be a part of the Willow family?
I'm excited to work at a school with a very strong community. I can't wait to get to know all of the staff and families!